SATURDAY MORNING BOOK CLUB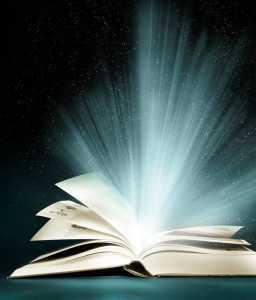 The Murphysboro United Methodist Church Saturday Morning Book Club meets the third Saturday of every month at 10:15 am in the MUMC Church Library (Room 110). At each meeting, a book previously selected by the group is discussed. The group reads a variety of books, both fiction and nonfiction alike. Examples of past reading selections include: The Red Tent by Anita Diamant, The President's Club by Michael Duffy and Nancy Gibbs, The Invention of Wings by Sue Monk Kidd, Go Set a Watchman by Harper Lee and The Kite Runner by Khaled Hosseini.
Our book selections usually lead to lively discussions and a variety of opinions! The book selections are announced at least two months ahead of time, which gives us plenty of time to find and read the book. You're invited to join us. Read the book, come to the meeting and join the lively discussion! Readers of all ages are welcome. For more information, contact Emily Hargraves at ehargraves88@gmail.com.
You are invited to join in the discussion!
September 9 at 10:15 am
in the MUMC Church Library (Room 110)
The group will discuss
The Persian Pickle Club
by

Sandra Dallas

.
It is the 1930s, and hard times have hit Harveyville, Kansas, where the crops are burning up, and there's not a job to be found. For Queenie Bean, a young farm wife, a highlight of each week is the gathering of the Persian Pickle Club, a group of local ladies dedicated to improving their minds, exchanging gossip, and putting their quilting skills to good use. When a new member of the club stirs up a dark secret, the women must band together to support and protect one another. In her magical, memorable novel, Sandra Dallas explores the ties that unite women through good times and bad.
~ Read Ahead ~
On October 21, the group will discuss
The Girl with the Dragon Tattoo
Mikael Blomkvist, a once-respected financial journalist, watches his professional life rapidly crumble around him. Prospects appear bleak until an unexpected (and unsettling) offer to resurrect his name is extended by an old-school titan of Swedish industry. The catch—and there's always a catch—is that Blomkvist must first spend a year researching a mysterious disappearance that has remained unsolved for nearly four decades. With few other options, he accepts and enlists the help of investigator Lisbeth Salander, a misunderstood genius with a cache of authority issues. Little is as it seems in Larsson's novel, but there is at least one constant: you really don't want to mess with the girl with the dragon tattoo.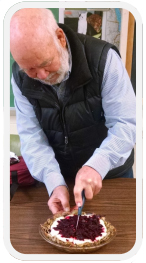 Back in March 2016, the Saturday Morning Book Club met to discuss the book
The Guernsey Literary and Potato Peel Pie Society
by Mary Ann Shaffer.
Here, Ken Cline is slicing the Potato Peel Pie the Book Club tried out as they discussed the book.