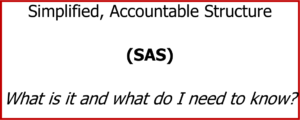 Simplified, Accountable Structure (SAS) is a tool Murphysboro UMC is discerning as a way to improve how administration connects to vision. We have not finalized its implementation, we are in the discernment phase:
We've contacted our D.S. and got approval to evaluate SAS
We've contacted the conference and acquired a consultant to walk us through the process
We've provided literature and information sessions for current church leadership
We've voted to begin technical aspects of discernment with our consultant which includes:
Informing the congregation to obtain an affirmative vote continues the process. Our focus now is to inform you and answer all questions.
Church Council hopes to answer most of your questions with the information provided below. Additionally, a brochure will be included in your June and July Newsletters. This brochure can also be found in the back of the Sanctuary, Library, and in the Fellowship Hall. We also have Mission Possible books available in our Church Library for you to check out. A question and answer session will be scheduled at a later date.
Your current Church Council members are: Pastor Marty, Nancy Fager, Rob Williams, Nancy Vallino, Richard Tierney, Vanessa Lirely, Rosie Wece, Barb Hughes, Jennifer Watson, Nicci Graff