MUMC Children & Youth Groups
Leader-organized youth group events happen throughout the year. Some events include all groups and others are age specific.
Children & Youth News
—————————————————————————————————————————–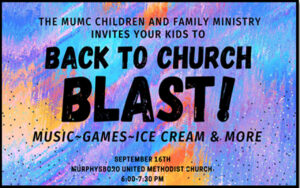 For safety reasons your child will need to be registered prior to attending.
PLEASE REGISTER WITH THIS LINK!!
Parent Letter for September 2020 – Please read!
Dates to remember for Fall 2020
Every 1st & 3rd Wednesday starting September 16th from 6-7:30pm (bonus Wednesday, September 30th) Sept 16th, Back to Church BLAST!!
Sept 30th BLAST & Youth Group
Oct 7th & Oct 21st BLAST & Youth Group
Nov 4th & Nov 18th BLAST & Youth Group
—————————————————————————————————————————–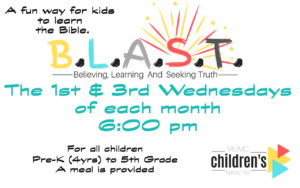 BLAST – Believing, Learning and Seeking Truth: Pre-k (4yrs) – 5th Grade at 6:00 pm
Blast meets the 1st & 3rd Wednesday of each month (Feb – May & Aug – Nov). Blast is a fun way for kids to learn the bible.
SUNDAY SCHOOL
Sunday School is available for youth of all ages.
See the
Children & Youth Sunday School
page for more information on classes.
YOUTH MISSION TRIPS
Mission trips can be a powerful opportunity for teens to learn and grow as they take steps along their faith journey.
CHURCH CAMP
Camp offers fun, fellowship and opportunity for developing a closer relationship with God. Camp is held every summer at Beulah and Little Grassy.
VACATION BIBLE SCHOOL
Vacation Bible School is held every summer in mid-July. It is typically held on a Sunday through Thursday, in the evening from 5:00 – 8:00 pm.
CONFIRMATION
Confirmation is a spiritual journey involving a wide range of both educational and spiritual experiences. The two-year program is conducted in several 4 to 6 week sessions along with two summer trip experiences. Youth move toward the fulfillment of Ephesians 3:17, "that Christ may dwell in our hearts through faith." Click here for details.
CHILDREN'S STORY TIME
Every summer in June, three Children's Story Time sessions are held under the MUMC Pavilion. The sessions are typically either three consecutive Tuesdays or Thursdays at 10:00 am. Children of all ages enjoy interactive Bible stories, songs, crafts and refreshments.
MUMC Youth Events & News
Adult volunteers are needed for regular weekly youth group meetings. Please contact Church Office.