Murphysboro
UNITED METHODIST CHURCH
started and their is still room for you to
worship with us indoor if you would like too.
for helpful tips on what to expect!
Click on the link above for our new Online Giving Option we will be providing more information
about this option in the near future. As you now you can click on this link
and give directly or you can set up and account.
Thank you for you continued support.
YouTube Link and Service Information
S
ermons will be upload at a later time each Sunday.
Check back on link provided if you were unable to watch Facebook Live Sermon. YouTube Link
Weekly Letters from
Pastor Danny
Letters from Pastor Danny
concerning the Corona Virus and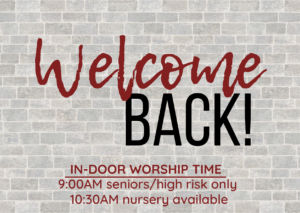 Return to Indoor Worship will start Sunday August 16th 9:30 am & 10:30 am.
Please call or email the church office to make your reservation today.
Our Building still remains closed for events. Please follow our Facebook page for weekly updates.
Murphysboro United Methodist Church is on a mission…
…to make disciples of Jesus Christ
for the
transformation of the world.
You are invited on the greatest journey of your life, a journey of discipleship!