THE CHURCH LIBRARY
The Church Library has something for everyone, from toddlers to adults. Study, learn, find inspiration, or be entertained with an array of books, audiobooks and DVDs. The Church Library is located in the Lower Level in Room 110. It is open for book checkout any time the church is open. It is a self-checkout system. All you do is write your name on the card found inside the book cover and place it in the checkout box. Directions are posted in the room.
The Library includes all genres of Christian books from commentaries, devotionals, inspirational, and fiction. Some titles you might find available include The Mitford Series by Jan Karon, The Mark of the Lion by Francine Rivers, and The New Daily Study Bible Commentaries by William Barclay.
The Library gives a gift of a children's book to newborns in the congregation. The Library is an inviting place that also can be used for small group meetings. Please contact Susan Patterson at susan.patterson37@yahoo.com for more information on the Church Library.
The Library Corner
November 2018: Unshakeable Hope
Unshakable Hope. Don't we want it? Max Lucado in his new book of that title says we can have it. How? The subtitle of the book gives us the details: by "Building our Lives on the PROMISES OF GOD."
Lucado says "it's a shaky world out there." He points out the shocking statistic that there has been a 24% increase in suicides in America since 1999. How can this be? Well, he says, "among the answers must be. . . that people are dying for lack of hope." (p. 10)
Lucado states that ". . . nothing lifts the weary soul like the promises of God." He shares some of his favorites, and says "We desperately need them . . . our mighty and loving God . . . governs the world according to these great and precious promises." And Lucado adds this question: "The circumstance of life or the promises of God—upon which are you standing?" (p. 11 – italics added)
Lucado is Senior Minister at the Oak Hills Church in San Antonio, Texas, and a prolific and popular writer of inspirational books. He has spent 40 years in ministry, and Unshakeable Hope is his fortieth book! If you love his books you will want to read this one. And those who have never read one of his books may just want to give it a try.
Also new in the Library: Jody Hedlund is the author of Newton and Polly: A Novel of Amazing Grace, a fascinating fictionalized story of the real-life John Newton who wrote "Amazing Grace" and the woman whom he loves.
The Marvelous Mustard Seed is a new children's book, in which a child plants a tiny seed. It isn't very special – yet! This beautifully illustrated book has echoes of Jesus' parable—and includes suggestions for discussion about the story.
And Don't Forget—Thanksgiving and Christmas Cometh! You will find books related to both holidays in the church library and upstairs on the library table.
Of particular interest are study resources related to Advent and the birth of Jesus. These are appropriate for both group study and study on your own. Adam Hamilton, Pastor of the Church of the Resurrection in Leawood, Kansas has several insightful books and accompanying DVDs. One is called The Journey, and follows Mary and Joseph through the time that leads to Jesus' birth. Not a Silent Night also centers on Mary, but it starts with Mary at Jesus' crucifixion, and traces her memories about Jesus' life and ministry back through time, ending at the stable with his birth. And then there is also the perspective of Joseph, as discussed in Faithful. We don't know as much about Joseph as we do Mary, but Hamilton shares some perspectives on this faithful man, who exchanges his doubt for courage.
So many books and DVDs of interest! Find some that suit you, and enjoy!
Little Free Library
What in the world is a "Little Free Library"? A Little Free Library is a small book box mounted on a post outdoors where it is accessible to passers-by who can stop by and take a book to read, or leave a book that others might enjoy. It is actually a worldwide movement, with many Little Free Libraries around the U.S. and abroad.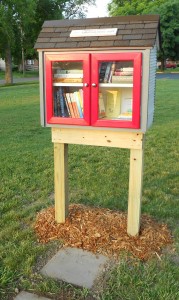 The good news is that we have a Little Free Library book exchange box right in MUMC's back yard! It is by the sidewalk on 16th Street and usually has a variety of books in stock. We try to be sure that some of the books available in the box have religious or spiritual topics, but most are just general topic books, both fiction and nonfiction. We usually are stocked with a number of mysteries, thrillers, romance, and other books of interest.
One of the best parts of having this neighborly book exchange box is the number of children's books that are taken. It is our most popular genre! That means there are a number of children who are having a lot of fun opening up the book box door and seeing if there is a book that they would like to read.
Please participate!
It is an adventure to look in the book box and see what books are there, or to leave a book you like for someone else to enjoy. If you have children's books that your family no longer needs, feel free to leave a few in the box for other kids, or to take them to the church office or to the library downstairs in the church for us to place in the book box. We could use books for babies, toddlers, youth – on up to the teenage years. Join us in our Little Free Library adventure!
Saturday Morning Book Club
The MUMC
Saturday Morning Book Club
is held the 3rd Saturday of each month from 10:15 am – 12:00 pm in the MUMC Church Library. Everyone is welcome!
Children's Story Time
This annual event is offered for a few weeks every summer in cooperation with the Service and Missions team. Younger children of the church and from the community are invited to come and enjoy stories, songs, activities, and refreshments. Please contact Susan Patterson at susan.patterson37@yahoo.com for more information.