THE CHURCH LIBRARY
The Church Library has something for everyone, from toddlers to adults. Study, learn, find inspiration, or be entertained with an array of books, audiobooks and DVDs. The Church Library is located in the Lower Level in Room 110. It is open for book checkout any time the church is open. It is a self-checkout system. All you do is write your name on the card found inside the book cover and place it in the checkout box. Directions are posted in the room.
The Library includes all genres of Christian books from commentaries, devotionals, inspirational, and fiction. Some titles you might find available include The Mitford Series by Jan Karon, The Mark of the Lion by Francine Rivers, and The New Daily Study Bible Commentaries by William Barclay.
The Library gives a gift of a children's book to newborns in the congregation. The Library is an inviting place that also can be used for small group meetings. Please contact Susan Patterson at susan.patterson37@yahoo.com for more information on the Church Library.
The Library Corner
April 2018: Time for Spring Renewal?
It's Spring! And there is something about the fresh new growth in Spring that inspires us to throw out the old and make all things new! If you are ready not just for Spring cleaning, but also for some spiritual growth and renewal, here are some suggestions:
Keri Wyatt Kent brings us several books about looking at life anew, and bringing it to a place where there is more room for God and spiritual growth. As a mother and busy author and speaker, she has a lot to say to busy young families in her books "Listen: Finding God in the Story of Your Life", "Breathe: Creating Space for God in a Hectic Life", and "Rest: Living in Sabbath Simplicity".
"Cure for the Common Life: Living in your Sweet Spot", by Max Lucado has a familiar Bible quote as the theme ". . . I know what I'm doing. I have it all planned out—plans to take care of you, not abandon you, plans to give you the future you hope for." Jeremiah 29: 10‐ 11 (Msg). Lucado discusses ways to find that "sweet spot". He says that ". . . when your uniqueness meets God's purpose, both of you will rejoice – forever." p. 142
"Lazarus Awakening: Finding Your Place in the Heart of God", by Joanna Weaver. Weaver has written books about Jesus' followers, Mary and Martha of Bethany, and this one is about their brother Lazarus. Weaver identifies a condition she calls "love doubt" and says: ". . . has Christ's love remained more of a fairy tale than a reality we've experienced for ourselves in the only place we can really know for sure? Our hearts." (p. 4) She uses the story of Lazarus to explore what she calls the "scandalous availability" of God's love "if only we will reach out and accept it." (p 9)
Sometimes a renewal of life is hindered by old hurts that don't let go of us. Perhaps it is time to find our way toward forgiveness— for ourselves, or for others. Many books address this topic, and that is so because it is a very tough issue in many people's lives. Here are two: "Forgiveness: Perspectives on Making Peace with your Past" is a slim book with thoughts on forgiveness‐‐ ourselves as well as others. The Companions in Christ, The Way of Forgiveness Participant's Book is set up as a group study, but can be adapted to individual use by reading the material and using the daily exercises.
There are many other books that invite us to renew and refresh our spiritual lives and our relationship with Christ. You will find these and others on display, or in the library, particularly in the "Christian Life" section.
And of course, books that pertain to the seasons of Lent and Easter will also continue to be on display.
Little Free Library
What in the world is a "Little Free Library"? A Little Free Library is a small book box mounted on a post outdoors where it is accessible to passers-by who can stop by and take a book to read, or leave a book that others might enjoy. It is actually a worldwide movement, with many Little Free Libraries around the U.S. and abroad.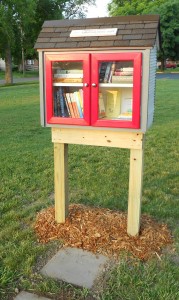 The good news is that we have a Little Free Library book exchange box right in MUMC's back yard! It is by the sidewalk on 16th Street and usually has a variety of books in stock. We try to be sure that some of the books available in the box have religious or spiritual topics, but most are just general topic books, both fiction and nonfiction. We usually are stocked with a number of mysteries, thrillers, romance, and other books of interest.
One of the best parts of having this neighborly book exchange box is the number of children's books that are taken. It is our most popular genre! That means there are a number of children who are having a lot of fun opening up the book box door and seeing if there is a book that they would like to read.
Please participate!
It is an adventure to look in the book box and see what books are there, or to leave a book you like for someone else to enjoy. If you have children's books that your family no longer needs, feel free to leave a few in the box for other kids, or to take them to the church office or to the library downstairs in the church for us to place in the book box. We could use books for babies, toddlers, youth – on up to the teenage years. Join us in our Little Free Library adventure!
Saturday Morning Book Club
The MUMC
Saturday Morning Book Club
is held the 3rd Saturday of each month from 10:15 am – 12:00 pm in the MUMC Church Library. Everyone is welcome!
Children's Story Time
This annual event is offered for a few weeks every summer in cooperation with the Service and Missions team. Younger children of the church and from the community are invited to come and enjoy stories, songs, activities, and refreshments. Please contact Susan Patterson at susan.patterson37@yahoo.com for more information.