THE CHURCH LIBRARY
The Church Library has something for everyone, from toddlers to adults. Study, learn, find inspiration, or be entertained with an array of books, audiobooks and DVDs. The Church Library is located in the Lower Level in Room 110. It is open for book checkout any time the church is open. It is a self-checkout system. All you do is write your name on the card found inside the book cover and place it in the checkout box. Directions are posted in the room.
The Library includes all genres of Christian books from commentaries, devotionals, inspirational, and fiction. Some titles you might find available include The Mitford Series by Jan Karon, The Mark of the Lion by Francine Rivers, and The New Daily Study Bible Commentaries by William Barclay.
The Library gives a gift of a children's book to newborns in the congregation. The Library is an inviting place that also can be used for small group meetings. Please contact Susan Patterson at susan.patterson37@yahoo.com for more information on the Church Library.
The Library Corner
June 2018: June in Bloom
Blooming flowers, beautiful brides, celebrations of Father's Day and of Anniversaries — they all come with June! Here are a few books from the library that fit the season:
With this ring: promises to keep, by Joanna Weaver. Weaver looks line‐by‐line at traditional wedding vows, interspersing them with personal stories, scripture and a variety of interesting and inspiring quotes and poems. Truly a lovely look at the vows we make, and the meaning they have. A good book for engaged couples, newly‐ marrieds and even those who have been married for a while!
Gift from the Sea, by Anne Morrow Lindbergh. This book is a "classic" and for good reason. Lindbergh's writing is exceptional—lovely, and insightful. Lindbergh, married to Charles Lindbergh, and the mother of five, took a vacation alone by the sea and used the sea shells she found as framework for her meditations on youth, age, marriage as an evolving partnership and other topics. Food for thought and an inspiration not to neglect our own contemplative and creative sides.
To Our Children's Children: Preserving Family Histories for Generations to Come by Bob Greene and D.J. Fulford. What do we leave our children and grandchildren? Property? Money perhaps? The authors say that what doesn't get passed along is "a package of memories of a person's life." (p. 1) Wouldn't it be great to preserve some of the memories that only you—or a few—possess about family and the past? This book is organized into chapters of questions meant to jog memories. Don't let the number of questions scare you! View them as options only, let your memories flow and then write or record the answers to the questions that resonate with you. Give it a try!
And here's some fiction that seems just right for June: The Wedding Machine by Beth Hart Webb. Set in Jasper, South Carolina, the wedding machine consists of four matriarchs of the community who have long made sure weddings are done right for the daughters of Jasper. They are friends from long ago, but when their own daughters get married, maybe things aren't so easy to manage—and the wedding machine may slip a gear or two.
The Art of Arranging Flowers by Lynne Branard. Ruby Jewell is a talented florist who knows her community and who can make floral arrangements that suit the needs and the emotions of customers. It's a wonderful gift, but she can't seem to comfort her own heart, or make herself whole after the death of her much‐loved sister. But life holds surprises and perhaps so do floral shops. Sometimes beautiful ones.
Little Free Library
What in the world is a "Little Free Library"? A Little Free Library is a small book box mounted on a post outdoors where it is accessible to passers-by who can stop by and take a book to read, or leave a book that others might enjoy. It is actually a worldwide movement, with many Little Free Libraries around the U.S. and abroad.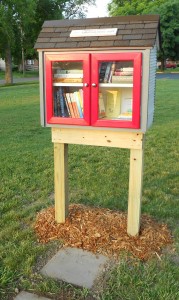 The good news is that we have a Little Free Library book exchange box right in MUMC's back yard! It is by the sidewalk on 16th Street and usually has a variety of books in stock. We try to be sure that some of the books available in the box have religious or spiritual topics, but most are just general topic books, both fiction and nonfiction. We usually are stocked with a number of mysteries, thrillers, romance, and other books of interest.
One of the best parts of having this neighborly book exchange box is the number of children's books that are taken. It is our most popular genre! That means there are a number of children who are having a lot of fun opening up the book box door and seeing if there is a book that they would like to read.
Please participate!
It is an adventure to look in the book box and see what books are there, or to leave a book you like for someone else to enjoy. If you have children's books that your family no longer needs, feel free to leave a few in the box for other kids, or to take them to the church office or to the library downstairs in the church for us to place in the book box. We could use books for babies, toddlers, youth – on up to the teenage years. Join us in our Little Free Library adventure!
Saturday Morning Book Club
The MUMC
Saturday Morning Book Club
is held the 3rd Saturday of each month from 10:15 am – 12:00 pm in the MUMC Church Library. Everyone is welcome!
Children's Story Time
This annual event is offered for a few weeks every summer in cooperation with the Service and Missions team. Younger children of the church and from the community are invited to come and enjoy stories, songs, activities, and refreshments. Please contact Susan Patterson at susan.patterson37@yahoo.com for more information.