THE CHURCH LIBRARY
The Church Library has something for everyone, from toddlers to adults. Study, learn, find inspiration, or be entertained with an array of books, audiobooks and DVDs. The Church Library is located in the Lower Level in Room 110. It is open for book checkout any time the church is open. It is a self-checkout system. All you do is write your name on the card found inside the book cover and place it in the checkout box. Directions are posted in the room.
The Library includes all genres of Christian books from commentaries, devotionals, inspirational, and fiction. Some titles you might find available include The Mitford Series by Jan Karon, The Mark of the Lion by Francine Rivers, and The New Daily Study Bible Commentaries by William Barclay.
The Library gives a gift of a children's book to newborns in the congregation. The Library is an inviting place that also can be used for small group meetings. Please contact Susan Patterson at susan.patterson37@yahoo.com for more information on the Church Library.
The Library Corner
October 2017: Best Friends
We need best friends. And luckily there are all types of them— for instance, some friends are great talkers – and some don't talk at all! At least not with words. But they express themselves anyway—with the look in their eyes, with their devotion and affection, and with their total and non-critical acceptance. I am, of course speaking of our (usually) four-legged best friends — the animals that add fun, love, and companionship to the lives of individuals and families.
If you are lucky enough to have a furry companion, remember that the first Sunday in October is the day our church hosts a Blessing of the Animals. It is a time of thanksgiving and a celebration that we share this beautiful earth with many creatures that cannot speak and tell us what they need, and yet who bless us by their very existence.
If you like not only taking care of these creatures who share our world and add so much to it, but also like to read stories about animals and their people, we have some books for you. Here are a few that are new to the library:
Best Friends: The True Story of the World's Most Beloved Animal Sanctuary by Samantha Glen. This is the story of the founding of this sanctuary in Utah, which is the largest no-kill shelter in the country. The book interweaves the stories of the people involved in this monumental task with the stories of some of the animals who have been rescued. Personalities shine in this book—both the people and the animals!
A Dog Named Boo: How One Dog and One Woman Rescued Each Other—and the Lives They Transformed Along the Way by Lisa Edwards. Edwards is a dog trainer, but this story is about the dogs who have become part of her family, and who have taught her and supported her while she was doing the same for them. Her sensitivity to the needs and potential for the animals she adopts bring out the best in them—especially Boo—not the brightest or most graceful of dogs, but who absolutely was just what she, and others, needed.
The Perfect Horse: The Daring U.S. Mission to Rescue the Priceless Stallions Kidnapped by the Nazis by Elizabeth Letts. How did Hitler and horses become connected? It seems Hitler was not only looking for the "master race" but also "master animals." The famous Lipizzaner stallions become victims to this mania when they are stolen and kept on a secret farm behind enemy lines. But as the war winds down, the horses are slated to be slaughtered for food. In this wild tale, it is chance that brings this to the attention of American troops, and it is boldness and bravery that lead to the covert rescue operation that saves them. What a story!
We also have fiction books that feature animals. Try The Dog that Talked to God by Jim Kraus or The Dog Master: a Novel of the First Dog by W. Bruce Cameron.
You'll find these and other books about animals on display in the library and on book tables in the upstairs and downstairs halls. Enjoy!
Little Free Library
What in the world is a "Little Free Library"? A Little Free Library is a small book box mounted on a post outdoors where it is accessible to passers-by who can stop by and take a book to read, or leave a book that others might enjoy. It is actually a worldwide movement, with many Little Free Libraries around the U.S. and abroad.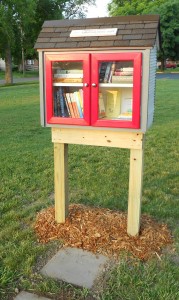 The good news is that we have a Little Free Library book exchange box right in MUMC's back yard! It is by the sidewalk on 16th Street and usually has a variety of books in stock. We try to be sure that some of the books available in the box have religious or spiritual topics, but most are just general topic books, both fiction and nonfiction. We usually are stocked with a number of mysteries, thrillers, romance, and other books of interest.
One of the best parts of having this neighborly book exchange box is the number of children's books that are taken. It is our most popular genre! That means there are a number of children who are having a lot of fun opening up the book box door and seeing if there is a book that they would like to read.
Please participate!
It is an adventure to look in the book box and see what books are there, or to leave a book you like for someone else to enjoy. If you have children's books that your family no longer needs, feel free to leave a few in the box for other kids, or to take them to the church office or to the library downstairs in the church for us to place in the book box. We could use books for babies, toddlers, youth – on up to the teenage years. Join us in our Little Free Library adventure!
Saturday Morning Book Club
The MUMC
Saturday Morning Book Club
is held the 3rd Saturday of each month from 10:15 am – 12:00 pm in the MUMC Church Library. Everyone is welcome!
Children's Story Time
This annual event is offered for a few weeks every summer in cooperation with the Service and Missions team. Younger children of the church and from the community are invited to come and enjoy stories, songs, activities, and refreshments. Please contact Susan Patterson at susan.patterson37@yahoo.com for more information.